Concept: FD and I running prisons in Prison Architect. We post updates. We post drama. We post convoluted forum lore storyline. You post suggestions.
About Prison Architect: Prison Architect is a prison management sandbox that's currently in its 26th month of alpha and is available for early access on steam. It receives monthly updates, each with a youtube video explaining the update content (
http://www.introversion.co.uk/prisonarchitect/builds.html
).
Originally, this post only included the above intro and information on my first prison attempt. I have since repurposed it to include the entire story so far from my end and will continue to update it as more story gets developed. You can see the details of my first prison attempt in the first spoiler below. Click on the Google Drive link and begin with Day 0 if your only interest is reading the Crime Unit storyline.
Day 1: Building a Prison
I built a prison. Got some buildings. Started electricity and water very late.

Day 2: Prisoners Arrive (Pictures in Spoilers)

Prisoners, enraged by lack of water in their toilets, start their time in prison by murdering a fellow inmate (he was apparently a snitch). Above is some of the aftermath (I missed the opportunity to get the screenshot with the dead body).
Prisoners enjoying a lights-out meal in the canteen. Lighting eventually established midway through meal time.
At this point, every facet of the prisoners' lives has been lighten up and given running water.
The Warden and his staff, however...they don't need electricity as much as these inmates do.

Day 3: More Violence. Begin Building Individual Cells. Less Screenshotting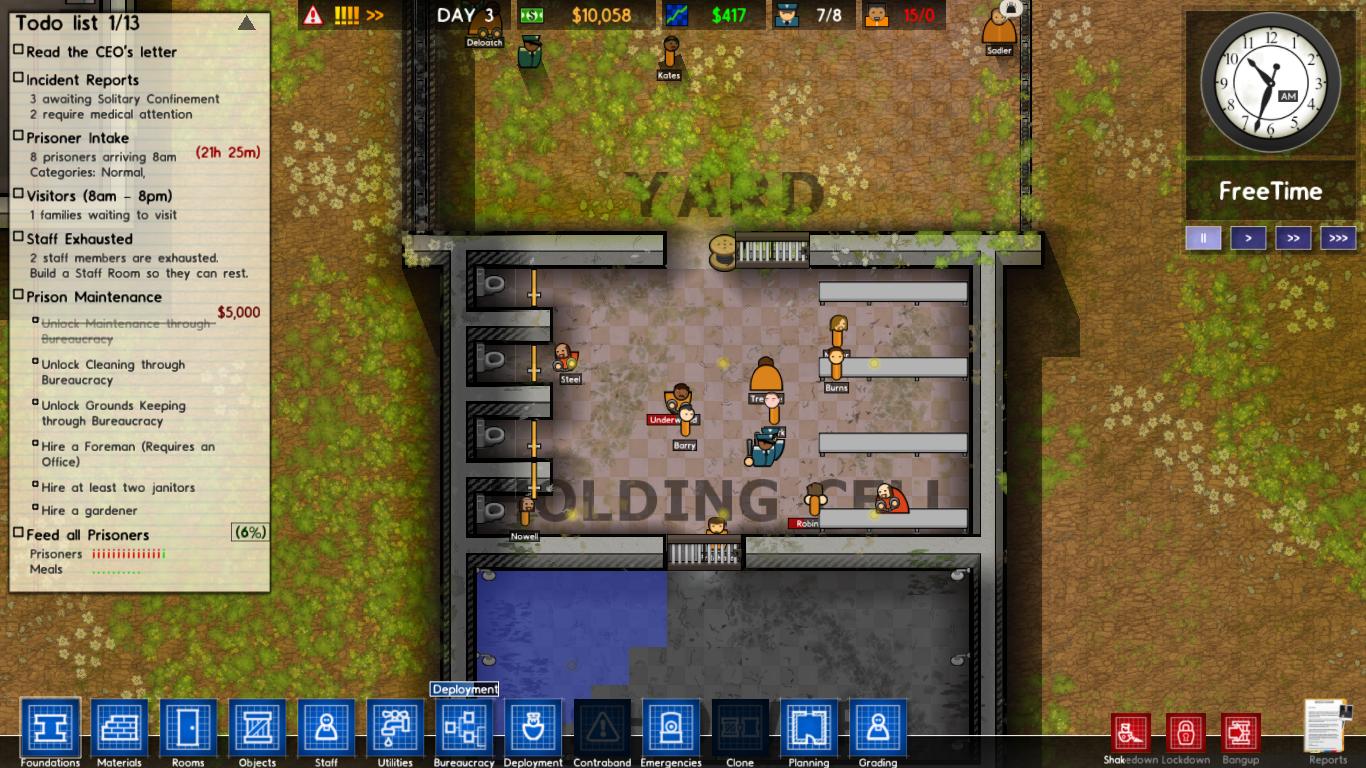 New prisoners arrive. Immediate case of fighting in the holding cell. Everyone is complaining about not sleeping because apparently benches aren't good enough for them. I start building individual cells for them. Main reason for doing this: 20k in grant money if I build 15 individual cells.
Building individual cells takes a long time. I keep running into technical issues with the building restraints as I learn the building system better (still don't completely understand it). Throughout this time workers are, at all hours, running through the main holding cell to access and build in the individual cell area. Somehow none of them get attacked. However: All the prisoners steel drills and hammers from them.
At this time I, annoyed by how much trouble I'm having with getting these 15 cells set up (grant money once I get 15) and worried about the upcoming waves of prisoners, turn off the flow of new prisoners.
At this point, 90% of my prisoners are awaiting punishments in solitary confinement. I, not understanding this, have yet to build a solitary confinement chamber. Warden also has more staff people in his area, which still has no electricity.
Day 6: Final (Also Day I built Solitary Confinement Chamber)
With the flow of prisoners turned off, I just focus on learning what's going on with my building rules mostly. My prison is too efficient at dealing with the small number of prisoners I have. 0 riots occured throughout. Only fatality: that one snitch on Day 1. Game is too easy.
Note the path from the holding cell to the individual cell area. That's where I had workers constantly moving through every day from day 3 to 6. Into the cell, through the shower, to the construction site (that was partially occupied by prisoners in cells). Also note all the benches in the holding cell.
I regretted turning off my stream of inmates. Everything was too controllable and easy. Therefore: I'm restarting with a new prison tomorrow.
I didn't make enough effort reporting events with pictures beyond day 2. I will do a better job next time.
So yes: I'm restarting tomorrow. I'll probably go with a similar prison layout that I did this time, and I'll pace my progress better (more pictures, less playtime per day). Any suggestions?
Crime Unit Storyline:
https://drive.google.com/drive/u/0/#folders/0BxGo6T8ewwQ0dTRkdlFhOG9qdnc/0BxGo6T8ewwQ0MlRrakQ3NURlWlE/0BxGo6T8ewwQ0V3R6V281R0tlV2c/0BxGo6T8ewwQ0amZfMlRNRGZHQnc
Last edited: